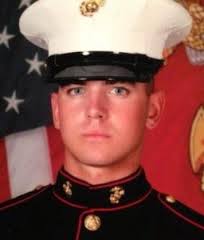 Thursday December 19, 2013 Lance Cpl. Matthew R. Rodriguez age 19 of Fairhaven, will be brought home with Military Honors.  It is expected that Lance Cpl. Rodriguez motorcade will arrive back in Fairhaven at approximately 1:30pm.  The motorcade will drive through the center of Fairhaven and then proceed to the funeral home in Mattapoisett via Route 6.  Expect a brief traffic delay as the motorcade proceeds through town.
Sunday December 22, 2013, Lance Cpl. Rodriguez wake will be from 1pm – 7pm at the Saunders Dwyer Home for Funerals in Mattapoisett.  It is expected that there will be many people in attendance wishing to pay their respects to the Rodriguez family.  Overflow parking for the wake will be at Saint Anthony's Church with shuttle service to and from the funeral home.  Expect traffic delays on North Street and Route 6.
Monday the funeral will be at the First Congregational Church in Fairhaven at 10am.  Family only will meet at the funeral home.