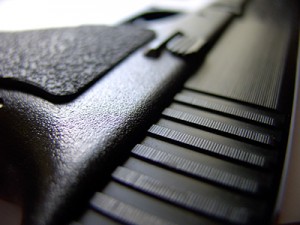 Firearms Licensing Procedure
Applicants must be citizens of the United States or Lawful Permanent Resident Aliens
Applicants must be a resident of Mattapoisett or own a business in the Town of Mattapoisett
Applications are processed by appointment only. Applications will ONLY be accepted if Firearms Licensing Officer, Sergeant Robert Randall is working. Please call the station and ask for their schedule. No Exceptions!
Include the following documentation with the application:
New Applicants

For an LTC or FID, a copy of your Basic Firearm Safety Certificate or Hunter Safety Certificate
If "active" military, Basic Firearm Safety Course is NOT required. (Must provide proof)
Proof of citizenship (copy of birth certificate, passport, etc.)
If naturalized for citizenship, a copy of your Naturalization Certificate
For FID if you are under 18 years of age, a notarized permission slip signed by a parent or legal guardian
If applying for LTC for All Lawful Purposes, include a letter to the Chief of Police outlining why you are in need of an LTC

Renewal Applicants

A copy of the front and back of your current FID or LTC

All Applicants

Photo identification (driver's license, previous LTC/FID, etc.)
Proof of Mattapoisett resident (voter registration, utility bill in your name and address, credit card bill, etc.)
If you are applying as a business owner, a copy of proof of ownership
Personal check or money order payable to the Town of Mattapoisett
LTC/ FID Fees
LTC/ FID/ Machine Gun License – $100.00 (renewal applicants 70 years or older, there is no charge)
Active/Retired Law Enforcement LTC – $25.00 (police ID required)
Under 18 FID – $25.00
FID Card is NO LONGER needed to possess or purchase chemical spray, UNLESS under 18
IMPORTANT!!!
You MUST answer all the questions truthfully. Pay particular attention to Question #10: Have you ever appeared in any court as a defendant for any criminal offense (excluding non-criminal traffic offenses)? Some traffic violations are criminal. If you are unsure, please ask!
This includes all adult and juvenile appearances
This includes a sealed record. You do not have to report what is in the sealed record. We will be notified if your sealed record disqualifies you from having a FID or LTC card
It does not matter if you were found not guilty, if the charges were dismissed, or continued without a finding
Having been arrested and convicted of a crime does not necessarily prohibit you from getting a FID or LTC card
There is a 90-day grace period on the expiration date of your FID or LTC, ONLY if you have a renewal application in process prior to the expiration date on your current permit and there is no reason your renewal application should be denied. Simply dropping an application off at the police station is NOT considered in process for purposes of the 90-day grace period. If your LTC or FID is about to expire let us know so we can try to get you renewed before the expiration date.
Misdemeanor Conviction Disqualifiers for FID Cards and LTC's
 Under Massachusetts law, misdemeanors punishable by imprisonment for more than two years include the following offenses:
 Crimes Against the Person
Assault (Ch265/13)
Assault & Battery (Ch265/13A)
A&B on Public Employee (Ch265/131)
Permitting Injury to a Child (Ch265/13S)
Gross Negligence by Common Carrier (Ch265/30)
A&B/ Property Damage to Intimidate (Ch265/39)
Causing Injury in a Physical Exercise Program (Ch265/40)
Resisting Arrest (Ch268/32B)
Violation of a Restraining Order (Ch209A)
Crimes Against Property
Failure to Report Hotel Fire (Ch266/13A)
Larceny from Common Carrier/Business (Ch266/30I)
Larceny Under $250 from Elder/Disabled Person (Ch266/30(5))
Shoplifting Over $100 (Ch266/30A)
Falsely Obtaining Commercial Computer Service (Ch266/33A)
Receipt of Deposit by Insolvent Bank (Ch266/54)
Receiving Stolen Property Under $250 (Ch266/60)
False Statement to Motor Vehicle Insurer (Ch266/111B)
Obstruction of Medical Facility- Subseq. Offense (Ch266/120E)
Wanton Destruction Property Over $250 (Ch266/127)
Destruction Church/School Property (Ch266/127A)
Destruction Jail Property (Ch266/130)
Motor Vehicle Offenses
Operating After Suspension for OUI/MVH, etc (Ch90/23)
OUI (Ch90/24) (Only applies to convictions after May 27, 1994)
Motor Vehicle Homicide While OUI or While OTE (Ch90/24G)
OUI with Serious Bodily Injury (Ch90/24L)
OUI on a Vessel (Ch90B/8)
OUI on a Vessel With Serious Bodily Injury (Ch90B/8A)
Homicide by Vessel While OUI or While OTE (Ch90B/8B)
Still, have questions about the Massachusetts Firearms Laws?
If you still have questions regarding the laws governing firearms possession, handling, transportation and licensing, you can contact Sergeant Robert Randall at (508)758-4141 or email at RRandall@mattapoisettpolice.com. In addition, you can read the sections of Massachusetts General Laws Chapter 140 (sections 121-131) and Chapter 269 (sections 10-12) and Chapter 180 of the Acts of 1998 that apply to firearms online by visiting the Massachusetts General Laws website.
Click a link above for more info